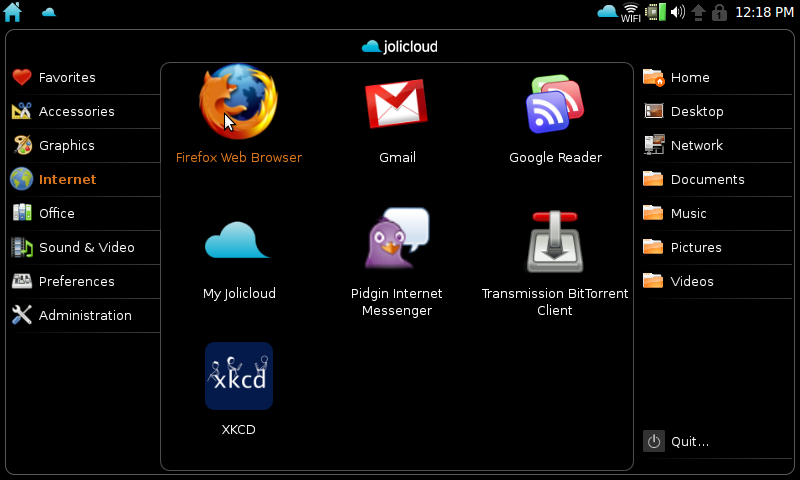 So if you haven't heard of Jolicloud http://www.jolicloud.com/, then you need to download and install it now. It's an Ubuntu based OS (a self-proclaimed "Cloud OS") specifically designed for Netbooks, and it rocks. I have Jolicloud installed on my Samsung N110 Netbook, and I use it for everything from e-mail to games (snes9x) to work (Perl/Vim/Screen). Now what makes Jolicloud super-awesome is that it treats web applications no differently from desktop applications. Each application gets it's own icon on the "Home screen". It's also socially aware – it can connect to facebook and allow you to search for applications and/or people who've used those applications, so that you can ask them questions and get guidance on the tools you're trying to use.
The interface is very slick – big icons and a clean method of navigation to the lesser used functions of a standard Gnome/Ubuntu desktop. The most-awesomest part is that once you load up a terminal, you have full access to the command-line and all Ubuntu apt repositories.
Jolicloud isn't just for netbooks! I've also installed it on my Acer Veriton (similar to the Acer Revo), and am using it as a media center OS. Jolicloud also comes in an "express" edition, which allows you to install it under windows, where it will come up as a secondary OS option under the windows boot-loader.
If you have a netbook, nettop, or any light-weight PC, then install Jolicloud. Highly recommended.